January 26, 2015
The RexN round up this week could be a quiet affair but much has been going on with some Newcastle United old boys making the news. Closer to home, what did appear to be a mute ventriloquist's dummy got its hand back with a private audition in front of, what turned out to be, a hungry local journalist.
The players, of course, were exposed to the heat, not of supporter reaction to recent events but to a warm down, a double training session and a day off in Dubai. Absent from the trip, apparently for personal reasons, was the team captain as well as the top scorer who has had a pitch-side view of ACoN. Including a friendly against Sweden, Tiote has played more football whilst away than he has in the FA Cup in his Newcastle career.
In the meantime, Mbiwa has played enough games to trigger a transfer to Italy. Along with the compensation for Pardew, an estimated £10m (including wage savings) or so is added to NUFC funds
In the meantime, we finally heard from Lord Charnley, Ashley's ventriloquist's dummy, who finally found his master's voice when granting an interview to Mark Douglas of the Chronicle. In 3 hours, one would think that a journalist could ask some searching questions.
What we did find out was what we already know, every player has his price, we probably won't buy in January, we may sell. We have improved over the last 4 years, from 11th in the table when Hughton was sacked to 11th now. There was no contingency plan in place for the manager's departure.
New information is that Charnley can hold the palm of his hand level and has a fantastic view from his office.
We are now expecting a Head Coach, whose responsibilities are defined. They may be appointed now, they may be appointed in the summer. There have been 80 applicants. We still have no idea who is on the short list, we have no idea if they will bring in their own coaching team. They may be able to have a chat about who they want to buy but have to trust the club to replace players who are sold, even if it is not in the same transfer window.
Charnley seems to admit that PR at the club could be better. In a later article, the journalist in question suggests that this could be improved by providing free food as well as the free seats to the press. Perhaps it was hunger that prevented some of the other questions being asked, is Ashley repaying his loan to himself, what is happening to the TV money, was Charnley's tummy rumbling too?
The Newcastle United Fans' Forum were told back in 2013 that:

"The board outlined research into Premier League clubs in relation to domestic cup competitions in the last five years, with Swansea City the only club outside the traditional top six to win a domestic cup and not be relegated in the same season (Birmingham and Wigan Athletic were both relegated)."
Clearly, given our record of not having reached the 5th round in Ashley's tenure, that should be interpreted as Newcastle United having no aspiration to the top six.


This FA Cup weekend kicked off on Friday, Richard Money, our former academy director, hosting Manchester United. Congratulations to him and former United player, Ryan Donaldson among others, for having a place in the hat for somewhere that Ashley dare not go.

The recently departed Pardew also made the 5th round for the first time since he was at Southampton, having echoed "the board" during his time in the North East. Not only that, his team came from behind to win for the 3rd time in 3 games, something else he rarely achieved up here. His view has clearly changed having talked about carrying cup momentum into the league. How things change!
Tying in to our managerial situation, the FA Cup win of the weekend must surely go to Bradford City. 2 goals down against arguably the most formidable team in the land, certainly the domestic leaders, Bradford came back to win 4-2, sending one of our intrepid local reporters into raptures on Twitter.
Ironically, Bradford's manager, Phil Parkinson is the only manager to succeed Pardew (at Charlton) and not improve the status of the club. Coppell took Reading to the Premier League, Curbishley rescued West Ham, Adkins took Southampton up two divisions. His time at Bradford is clearly happier.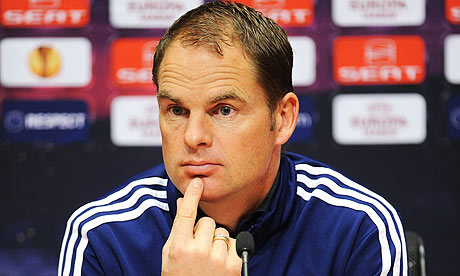 As far as our own managerial situation is concerned, our own hungry reporters are hungry – to keep us up with developments. Frank de Boer is the latest, and arguably biggest name being touted for the job. A Chronicle poll shows that 97% of supporters agree, despite the middle reporter having highlighted a less pleasant aspect of the man earlier in his career.
The junior reporter has advocated the current coach as the man who "has the credentials" whilst also advocating the former England manager, Steve McClaren. Famously, McClaren as England manager put a dent in profit for Ashley's leading brand, in failing to qualify for Euro 2008. If de Boer can not be landed, this could be a good shout, after all, McClaren does had a Dutch accent.
The senior reporter has run a piece on Tuchel, the innovative German coach who made Mainz punch above their weight, has an interest in furniture design and his favourite film is Any Given Sunday. The middle reporter has advocated Benitez (an article to follow no doubt) who is lout of contract in the summer. He is the journalist who had the ear of Charnley. Are these appropriate names to be thrown into the hat, as coaches who match the owner's lack of ambition? Meanwhile, the bookies favour John Carver.
In other news, a group of disaffected supporters is emerging to show support for North East football whilst boycotting Ashley's revenue streams. At the moment, they congregate under the Twitter hashtag #lovefootballhateashley. It seems that the aim is to lend numbers to lower league clubs, providing voice and gate revenue. It is certainly an interesting idea and who knows, they might find local teams who still have an interest in knockout competitions.
Posted by RexN.